Print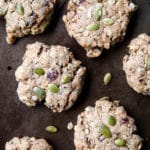 Oatmeal Date Breakfast Cookies
Loaded with oatmeal, seeds, peanut butter, and chopped dates for sweetness, these Oatmeal Date Breakfast Cookies are a portable, healthy breakfast or snack you can stash in your freezer and take to go.
Preheat oven to 350 F degrees.

In a large bowl, beat together the butter, peanut butter, brown sugar, egg, and vanilla.

In a separate bowl, stir together the whole wheat flour, oats, cinnamon, baking soda, and salt.

Pour the dry ingredients into the wet ingredients bowl, and stir until just moistened. Gently fold in the chopped dates, sunflower seeds, and pumpkin seeds.

Drop by spoonfuls onto an un-greased cookie sheet. Flatten slightly with the palm of your hand, or the back of a measuring cup.

Bake at 350 F for 10-12 minutes.
Recipe will yield approx 1 dozen to 1 1/2 dozen cookies, depending on how large you make them!
Store cookies in the freezer for up to two months.