Print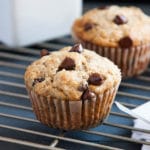 Banana Chocolate Chip Muffins
Chocolate for breakfast? Don't mind if I do...
Preheat oven to 350 F and grease or line a muffin tray with paper cups.

In a large bowl, cream the butter and brown sugar together. Add in the eggs and beat until combined. Stir in vanilla, mashed bananas, milk, and sour cream.

In a separate bowl, sift together the flour, baking powder, baking soda, and cinnamon. Add the dry ingredients to the wet and stir until just combined. Gently fold in chocolate chips.

Scoop batter into prepared muffin tray, filling each 3/4 full.

Bake at 350 F for 17-22 minutes, or until a toothpick inserted in the centre comes out clean.
Recipe yields 12 muffins.