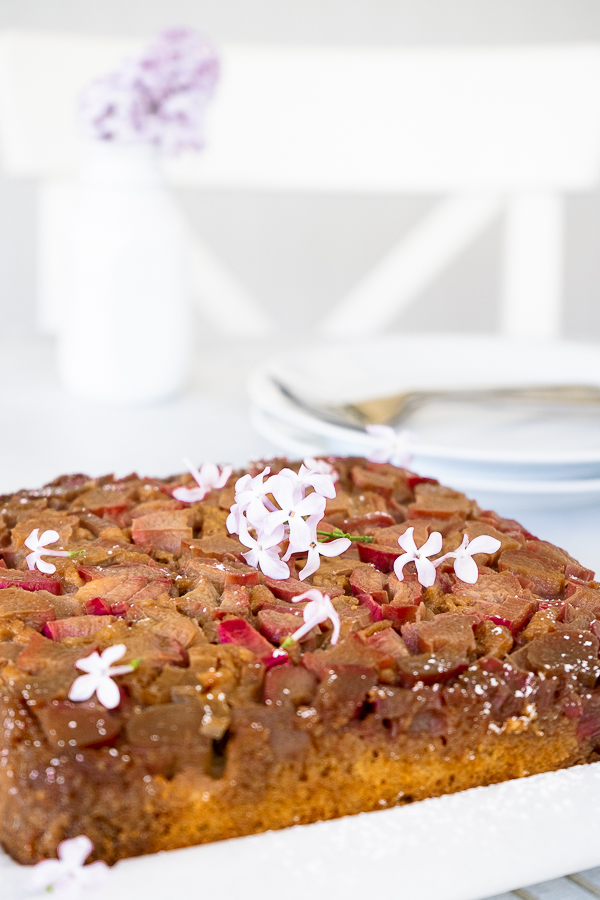 This recipe was originally posted on May 19, 2016 and has been updated with new content and fresh photos!
Whenever I think of upside-down cake, I think of the Pineapple Upside-Down Cake that was popular in the 50s – a piece of white cake topped with an unnaturally bright red maraschino cherry in the middle of a ring of too-sweet canned pineapple.
While I loved that cake as a kid – Now I just think: ugh. We can do so much better!
This cake – this lovely, seasonal Rhubarb Upside-Down Cake – is NOT that cake.
This cake is the real deal.
We've got a moist, rich, but not-too-sweet, buttermilk vanilla cake, topped with slices of tart rhubarb, laced with a gooey caramel glaze.
It's a combination of tart and sweet that makes this cake easy to serve for a late morning brunch. (Maybe once this pandemic craziness is over and we can have people over to our homes again – you might serve it at a brunch party…?)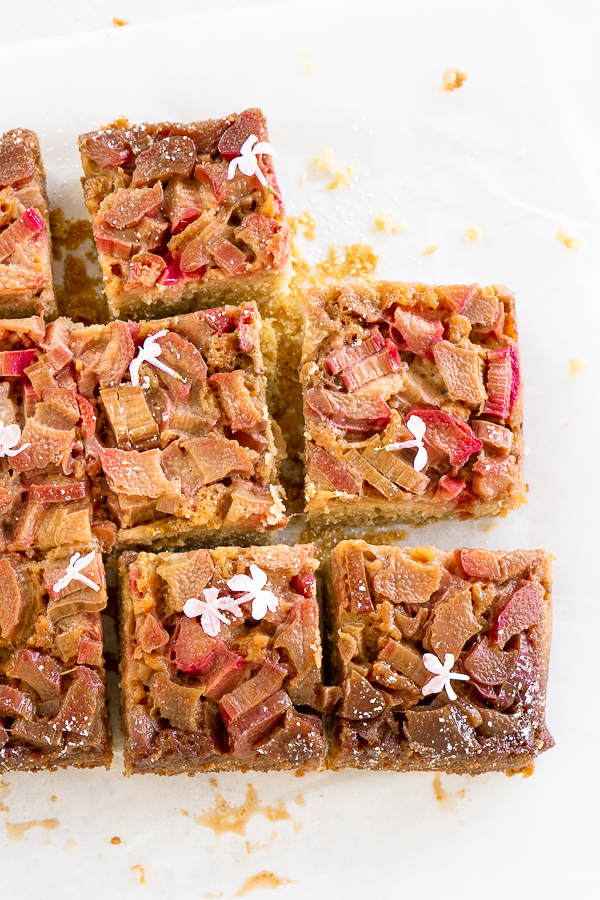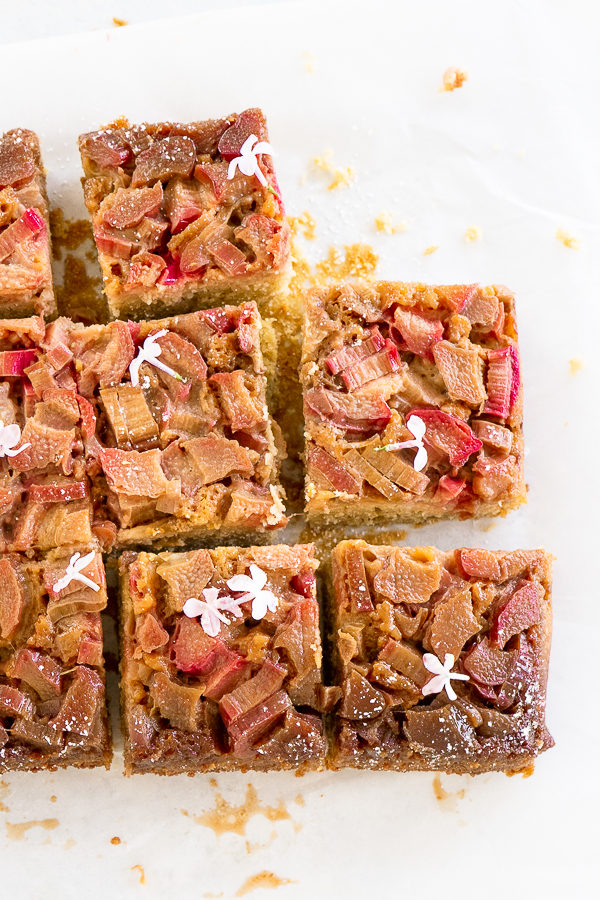 Regardless, take advantage of rhubarb season! It's hit the shelves in my grocery store, or if you're lucky enough to have some growing in your backyard, this recipe is begging to grace your table.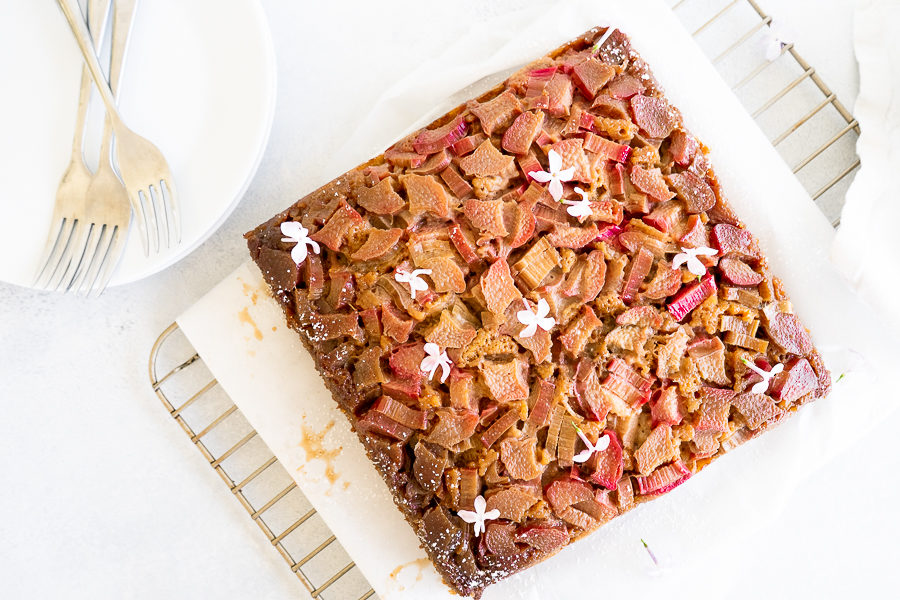 I would recommend baking this cake on the day you intend to serve it – as days pass, the cake gets more moist – which isn't necessarily a bad thing (we've still enjoyed it 3 days later!), but optimal texture is definitely on day 1.
Serve Rhubarb Upside-Down Cake with a strong cup of tea, and if you really want to wow your brunch party guests, serve it with vanilla bean ice cream!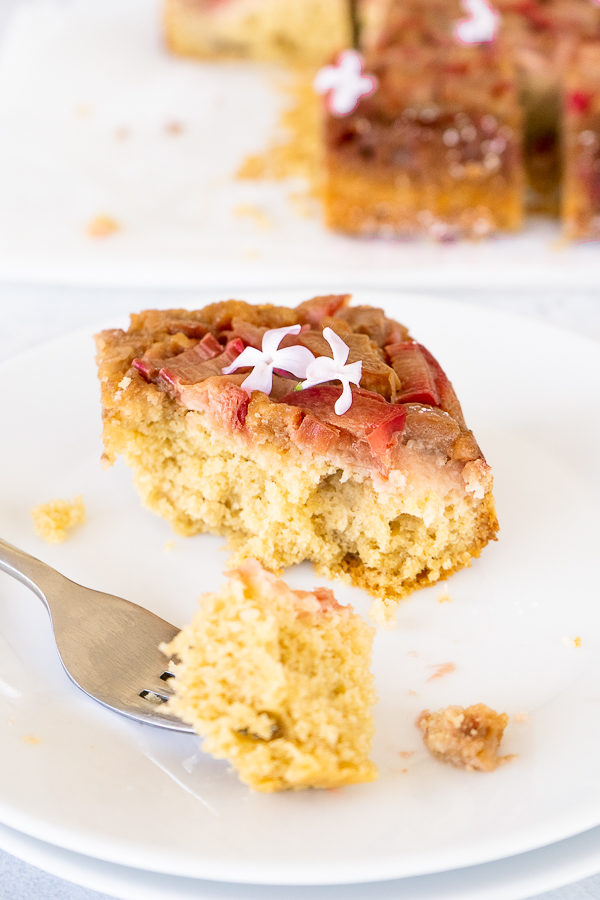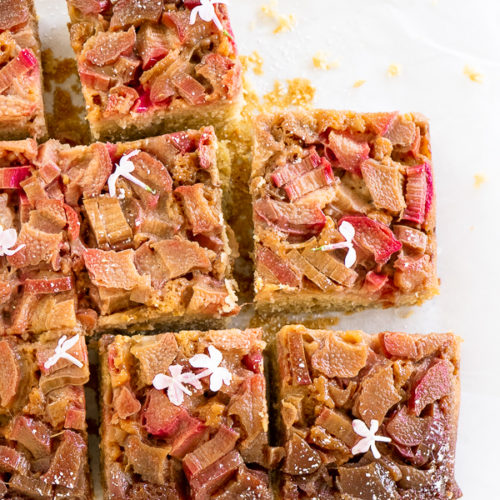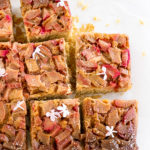 Rhubarb Upside-Down Cake
Rhubarb Upside-Down Cake is a lovely combination of sweet and tart: a moist, rich, but not-too-sweet buttermilk vanilla cake, topped with slices of tart rhubarb, and laced with caramel glaze.
Course:
Breakfast, Brunch
Keyword:
brunch cake, buttermilk, cake, rhubarb
Ingredients
For the rhubarb topping:
1/4

cup

unsalted butter

1/2

cup

packed brown sugar

2

teaspoons

lemon juice

3

cups

chopped rhubarb

(approx 3-4 stalks)
For the buttermilk cake:
1/2

cup

unsalted butter, softened

1/4

cup

granulated sugar

1/4

cup

packed brown sugar

2

eggs

1

teaspoon

vanilla

1 1/3

cups

all-purpose flour

1 1/2

teaspoons

baking powder

1/2

teaspoon

baking soda

pinch

salt

3/4

cup

buttermilk

(see note)
Instructions
Preheat your oven to 350 F and grease and line a 8x8" or 9x9" square cake pan with parchment paper. Set aside.
To make the rhubarb topping:
In a saucepan over medium heat, melt butter, sugar, and lemon juice, stirring until sugar is dissolved. Pour into cake pan, spreading to ensure it's evenly distributed. Scatter chopped rhubarb evenly over top. Set aside.
To make the buttermilk cake:
In a large bowl, cream butter and sugars together until fluffy. Beat in eggs and vanilla.

In a separate large bowl, stir together the flour, baking powder, baking soda, and salt.

Add 1/3 of the dry ingredients to butter mixture, stirring well. Then add 1/2 of the buttermilk, stirring well. Repeat with adding 1/3 of dry ingredients, then the rest of the buttermilk, and lastly the remaining 1/3 dry. Make sure to stir well between each addition.

Pour the batter into the pan, over the rhubarb. Smooth the batter to the edges of the pan.

Bake for 40-45 minutes, or until toothpick inserted in centre of cake comes out clean.

Let the cake cool in the pan for 10 minutes, then carefully invert it onto serving plate and remove parchment paper.

Cut into squares and serve.
Recipe Notes
Make your own buttermilk: in a measuring container, add 1 tbsp lemon juice or white vinegar. Fill to the 3/4 cup line with milk. Let stand for 10 mins before using. Other ways to make buttermilk.
Do NOT use any type of spring-form pan to make this recipe. I can attest that it will make a very big mess in your oven 😉 However, using a 8" or 9" round cake pan will work just fine.
I recommend making this cake on the day you intend to serve it. On Day 2, this already moist cake will be much moister and slightly less optimal in texture.
Recipe adapted from Canadian Living.