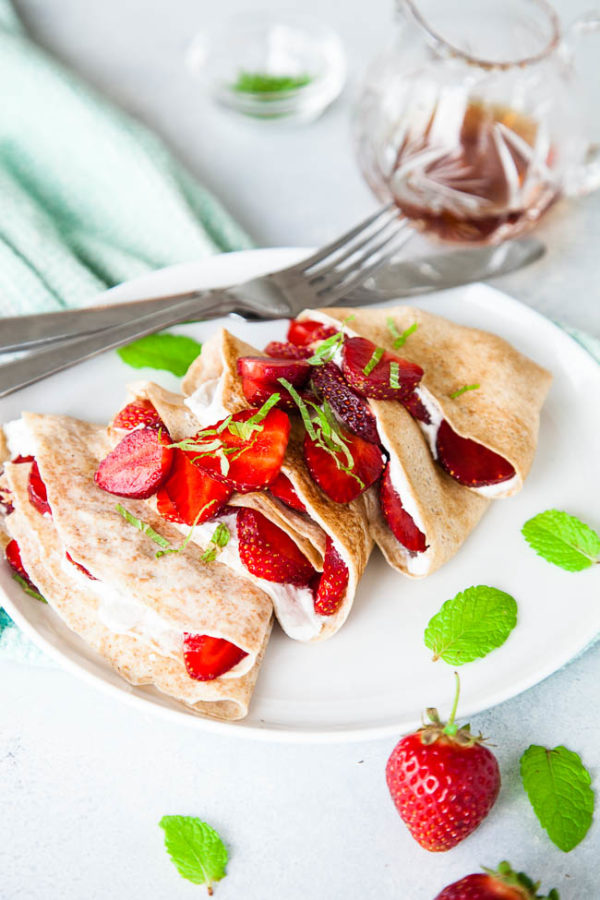 Serious question: growing up, was your family weekend breakfast specialty waffles, pancakes, crêpes, or french toast?
I find that all families fall into one of those four categories, and rarely deviate from their tried-and-true recipe. 😉
My family was a pancakes family. Pancakes were what my mom cooked on weekends, probably because that was what my brother and I requested most often. We had the occasional waffle or french toast, but you know what we never ate? Crêpes.
Now that I'm an adult and get to make my own breakfasts, I've been experimenting a lot with crêpes lately and have been seriously wondering why they don't often grace my breakfast table. (I'm now in a waffle family, if you must know!)
Crêpes are the most delicious vessel for seasonal fruit, and they are so light and thin, you don't feel like there's a brick in your stomach after eating (like I sometimes do when eating pancakes).
And since we always make an effort to make breakfasts healthier around here, this recipe is for 100% whole wheat flour crêpes. They are still light and fluffy, with the added bonus of being nutritious!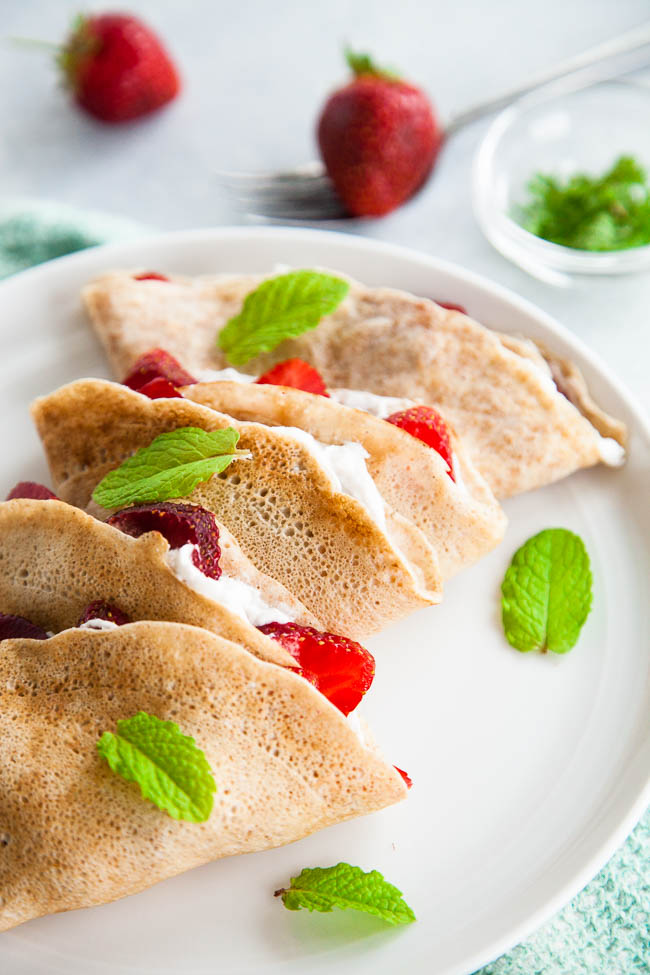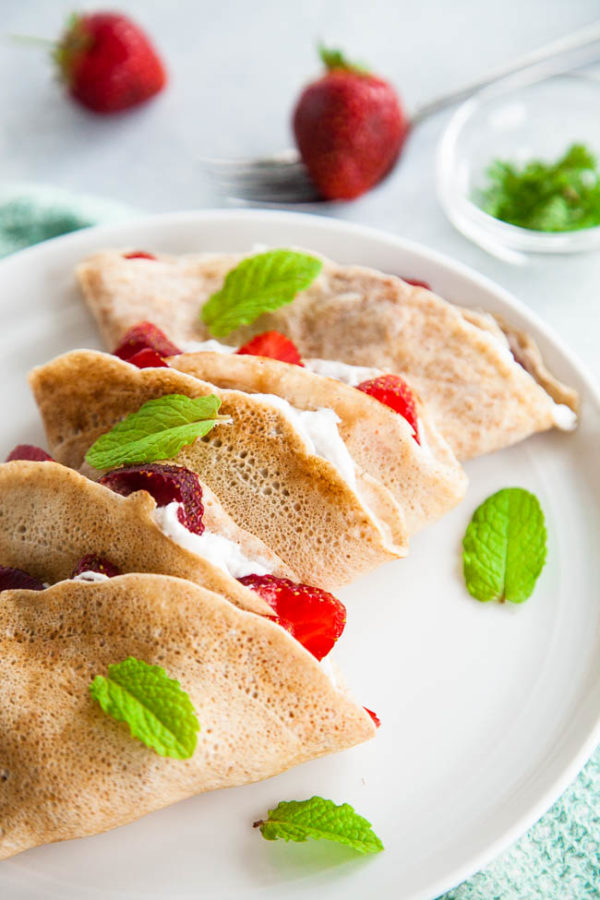 Tips for making great crêpes:
Use the right pan. The ideal size is a 7-8″ heavy-bottomed pan, so it's small enough to pick up and swirl into the perfect size, and so the crêpes cook evenly.
Warm the milk before adding it to the batter. Warm milk will allow the melted butter to stay melted, and not clump together.
If you like, all ingredients can be mixed together in a blender! Less work for you!
Use even, medium heat. And make sure to pre-heat the pan slowly, so you have more control over the temperature. It's possible you may need to reduce the heat to medium-low – my oven runs hot and medium-low works best for me.
For this recipe, it's not necessary to let the batter sit before you cook the crêpes. However, if you use a blender to mix the ingredients, it will be beneficial to rest the batter for 15-30 mins, to let the gluten relax.
Don't flip the crêpes too early! Wait until the crepe looks dry on top and the edges are slightly curling and beginning to brown.
Keep crêpes warm as you cook them: stack cooked crêpes on a plate and cover with aluminum foil to keep warm. No need to use your oven!
The first crêpe you pour will be the worst one. Don't worry! I often munch on the first crêpe while I continue making the rest!
To make this breakfast feel even more like an indulgent treat, I've filled the crêpes with tons of fresh strawberries and coconut cream.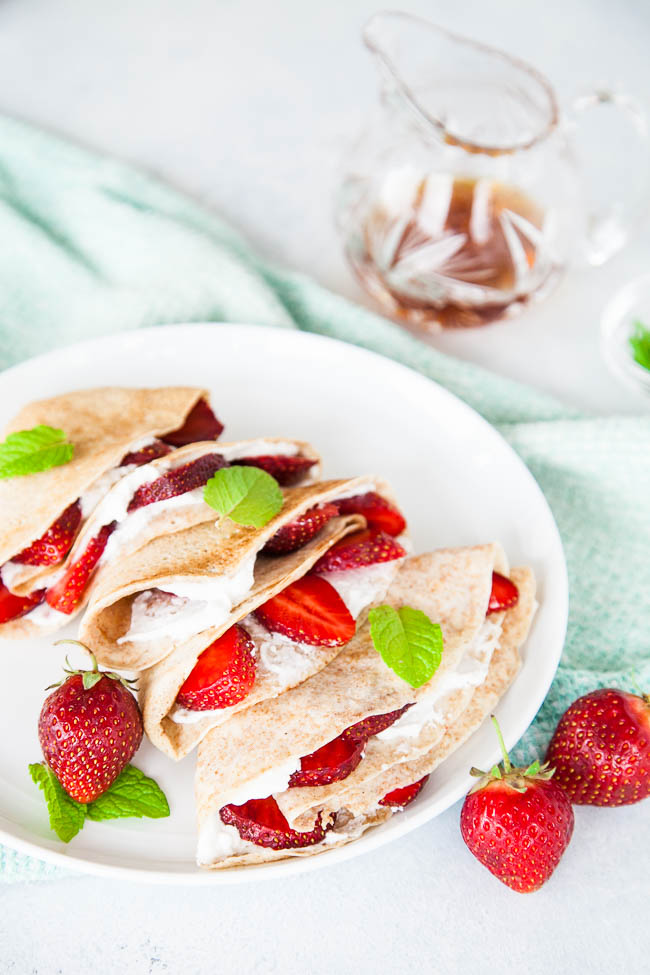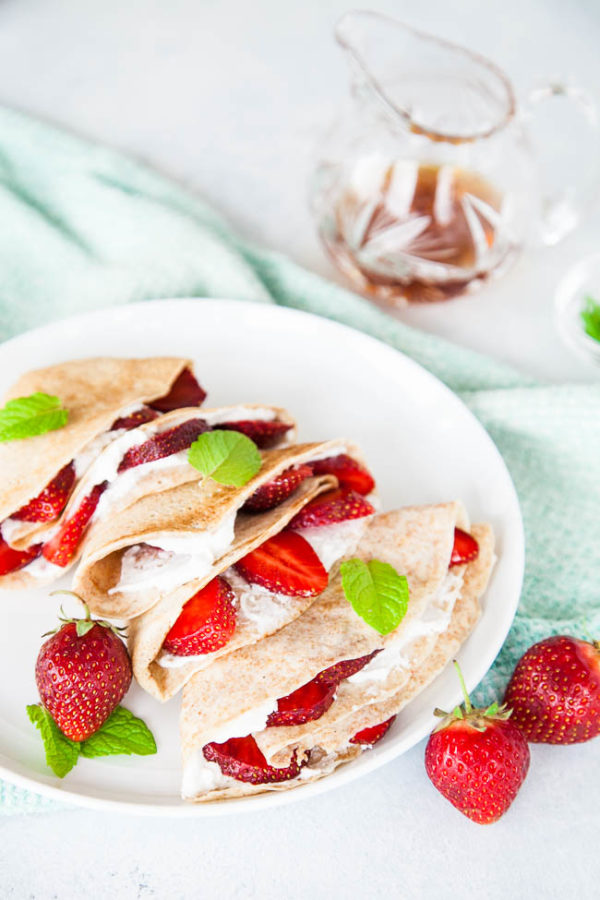 What is coconut cream?
Coconut cream is a dairy-free alternative to whipping cream, made from the solidified "cream" from a can of store-bought coconut milk. To make it, you set an unopened can of coconut milk in your fridge overnight. In the morning, open the can, and pour out all the liquidy coconut milk (reserve it to use in smoothies later!) Then you'll find a layer of hardened coconut cream, sitting in the bottom of the can. That's the goodness that we use to make whipped coconut cream.
The hardened coconut cream is then whipped with a little maple syrup and vanilla and VOILA! You have magical, delicious whipped coconut cream!
And in my opinion, it's even tastier than  regular whipped cream (but I am not a whipped cream lover, so you tell me what you think!)
Check out Oh She Glow's post for more tips on how to make the best coconut cream.
While these Whole Wheat Crepes with Strawberries may look like an indulgent treat, by using 100% whole wheat flour, fresh fruit, and coconut cream, you can feel good about eating these crepes at any time of day – breakfast or dinner!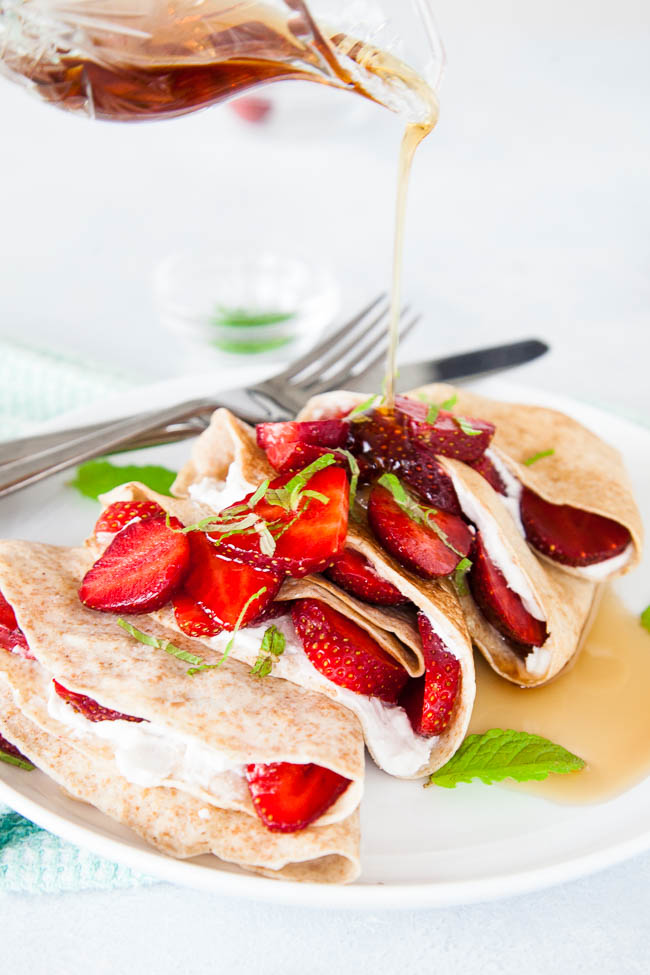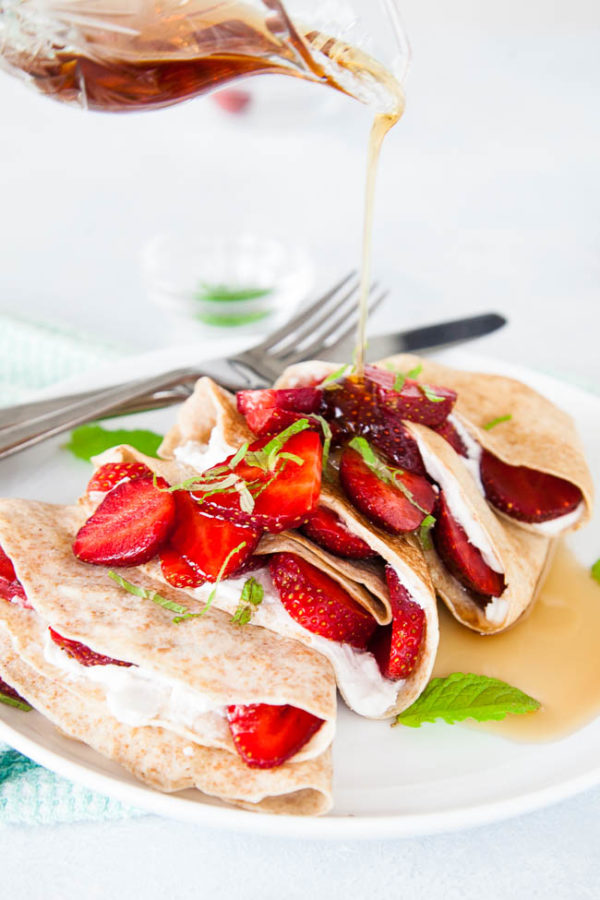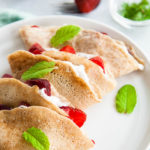 Whole Wheat Crepes with Strawberries
These crepes may look like an indulgent treat, but by using 100% whole wheat flour, fresh fruit, and coconut cream, you can feel good about eating these crepes at any time of day - breakfast or dinner!
Keyword:
breakfast, coconut cream, crepes, strawberry, whole wheat
Ingredients
Whole Wheat Crepes:
1

cup

whole wheat flour

pinch

salt

2

eggs

1 1/2

cups

milk, warmed

1/2

tsp

vanilla

1

tbsp

melted butter
Coconut Cream:
1

can

full fat coconut milk, chilled overnight

1

tbsp

maple syrup

1

tsp

vanilla
To assemble:
fresh sliced strawberries

fresh chopped mint leaves

maple syrup
Instructions
Make the crepes:
In a bowl, whisk together whole wheat flour and salt. Add eggs, warm milk, and vanilla, and whisk until smooth. Then whisk in melted butter. (Make sure the batter has no lumps! Alternatively, you may mix together all ingredients in a blender.)

Preheat a 7" or 8" skillet over medium heat. When the skillet is hot, brush with butter.

To measure the batter for each crepe, I use a 1/4 cup measuring scoop and fill it 3/4 full with batter. Pour the batter in the centre of the skillet. Tilt the skillet in a circle to spread batter evenly until it covers the bottom of the skillet in a thin layer.

Cook crepe until the top looks dry and the edges curl and begin to brown. Then flip and continue cooking for 10 seconds.

Stack cooked crepes on a plate covered with aluminum foil, to keep warm.
Make the coconut cream:
Before you make the coconut cream, make sure you have refrigerated the can of coconut milk overnight.

It will help to keep everything chilled (especially if it's a hot day!) If you have a metal mixing bowl, chill the bowl for 1 hour in the fridge, or for at least 15 mins in the freezer.

Open your chilled can of coconut milk, and pour out the liquid (reserve it to make smoothies later!) Then scoop out the solidified cream and add it to your chilled bowl.

Using an electric mixer, beat the coconut cream until fluffy. Then add maple syrup and vanilla and beat until smooth.

Keep coconut cream chilled, until assembling crepes.
Assemble crepes:
Spread a scoop of coconut cream along the centre of your crepe, and arrange sliced strawberries over top. Fold each side of the crepe over the centre, like a burrito. Alternatively, you can spread filling over half of the crepe and fold it in half, or in quarters, like I have in the photos.

Serve with maple syrup, a sprinkle of fresh mint, and additional sliced strawberries.
Recipe Notes
This crepe recipe has no sugar in the batter, which means you can fill them with sweet or savory fillings! Alternatively, if you prefer a sweeter crepe, add 1-2 tbsp sugar to the batter.
If you have extra time, some crepe purists will insist you need to rest the crepe batter, so the gluten relaxes, before cooking. While resting is not necessary with this recipe, if you like, you may rest the batter on your counter for 15-30 mins before making. It may be more beneficial to rest the batter if you use a blender for mixing.
Read Oh She Glow's very detailed post on how to make perfect coconut cream!