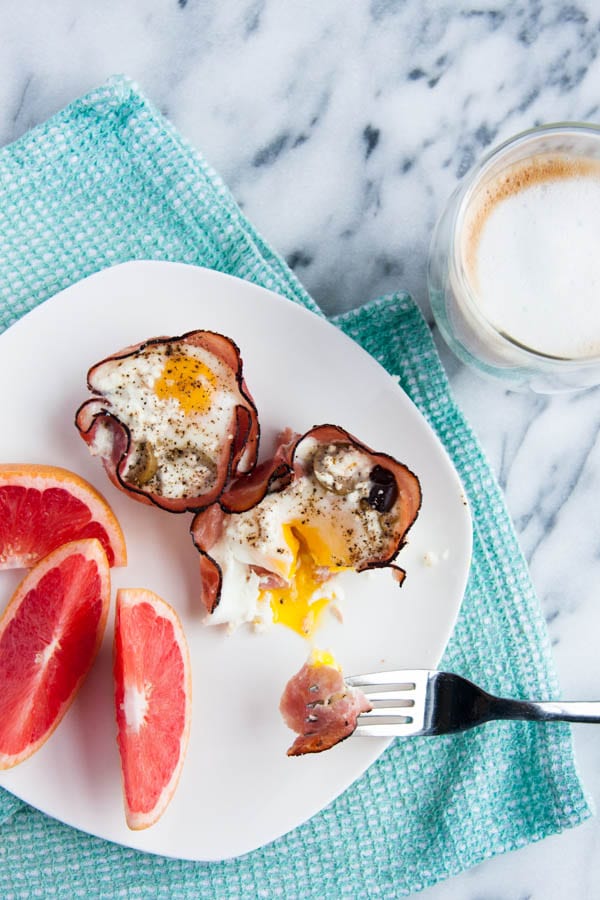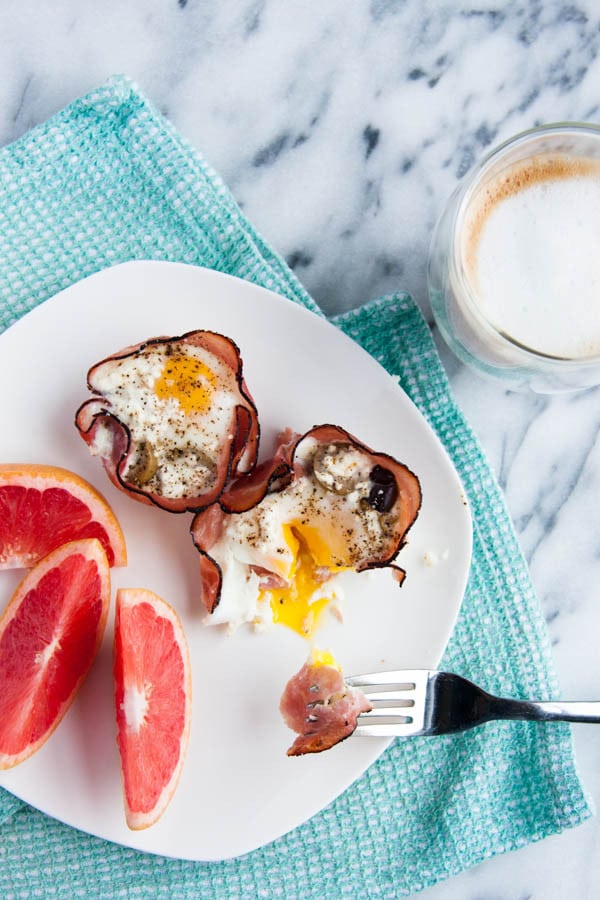 Eggs are my favourite breakfast. Even if I'm rushing out the door to head to the office on a weekday morning, I make time for eggs.
Usually I fry up a quick egg to put on avocado toast, or scramble a couple eggs for me and J, but my newest favourite egg breakfast are these Baked Ham and Egg Cups.
They are so quick to assemble – and I love that once you pop them in the oven, you are free to go back to getting ready for the work day!
The recipe is very hands off – so different than scrambling an egg! I'll pop the muffin tray in the oven, go put on my makeup, and by the time I'm done, breakfast is served! 
I've been making variations of Baked Ham and Egg Cups for the past two weeks – they are so customizable!
Change the cheese, add different veggies and condiments to make them your own. Try feta cheese, mozzarella cheese, parmesan, pesto, sundried tomatoes, sliced cherry tomatoes, slivered spinach, or fresh basil.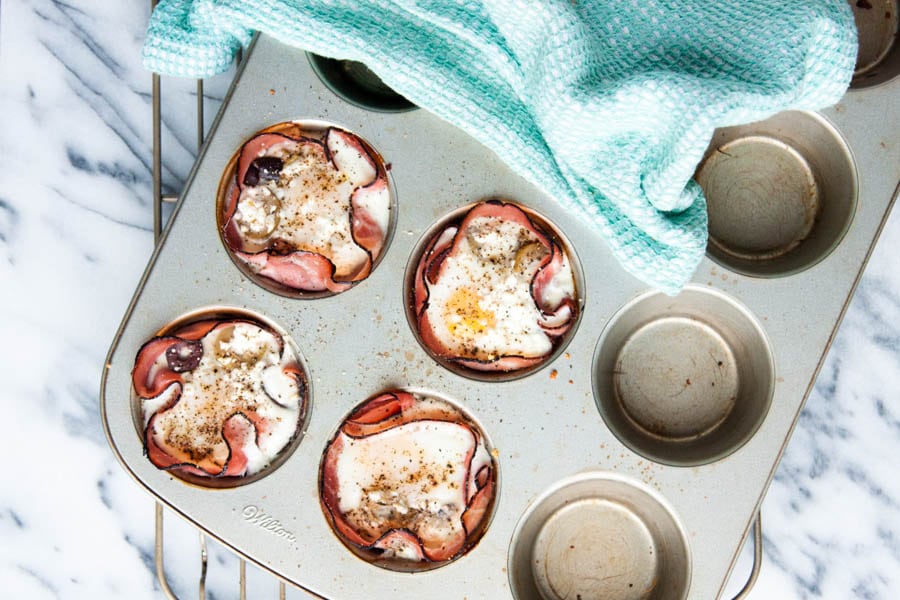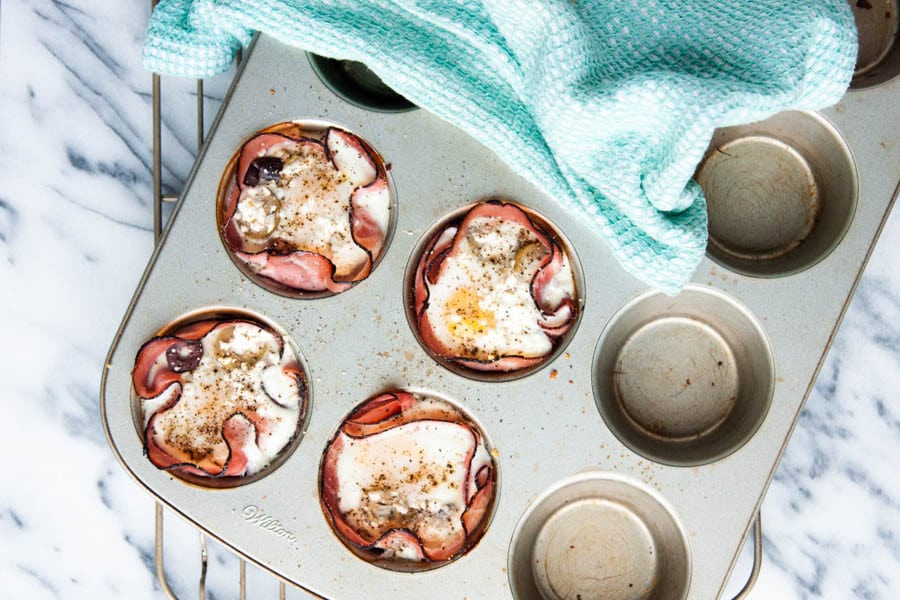 The best part about eating eggs for breakfast is that it's warm and cozy for autumn, and that I stay full until lunch.
And there's nothing I hate more than a grumbling stomach at 11:00am. Let's hope my grumbling stomach stays on track tomorrow after this time change business! (But yay for an extra hour of sleep!!)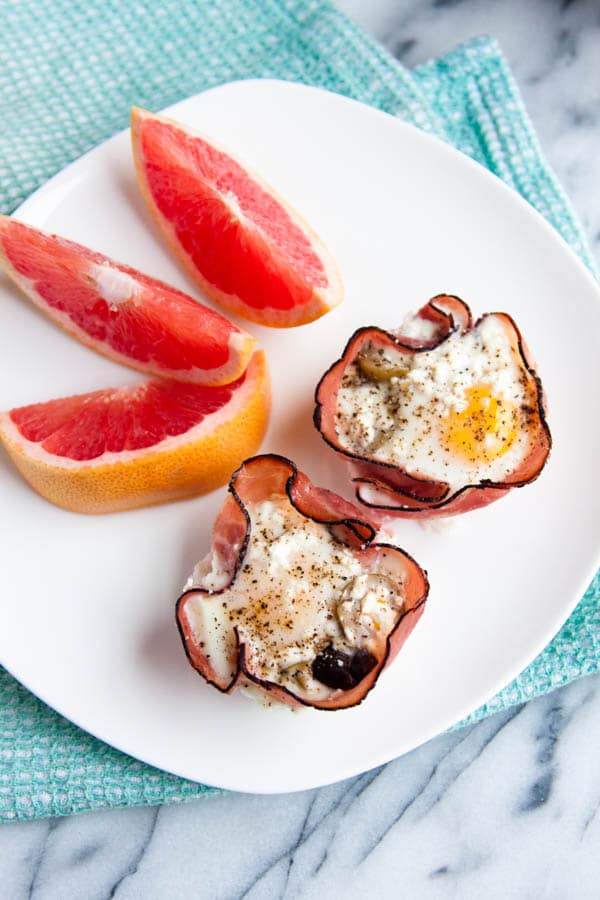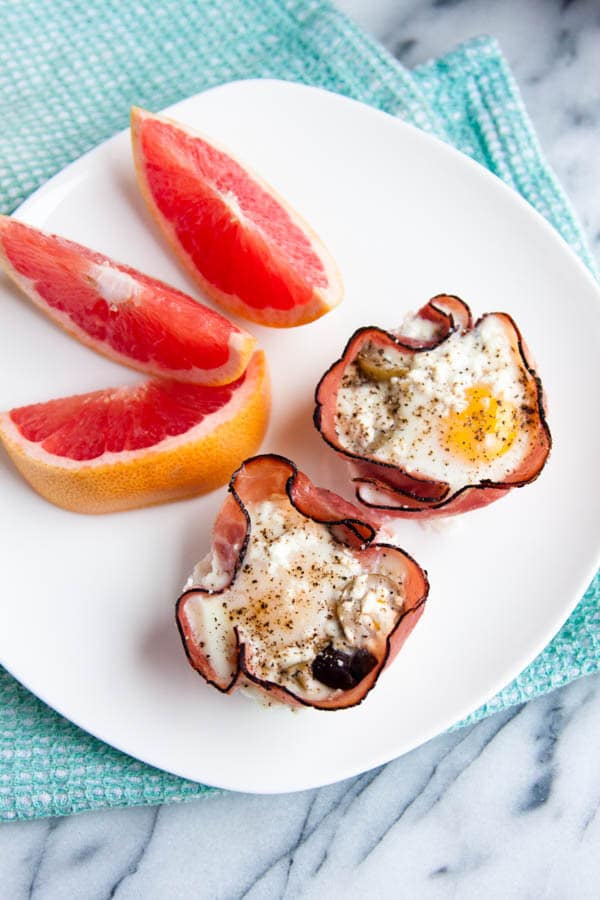 Let me know what other variations of Baked Ham and Eggs Cups you try – they're going to become part of your breakfast rotation, I just know it! 😉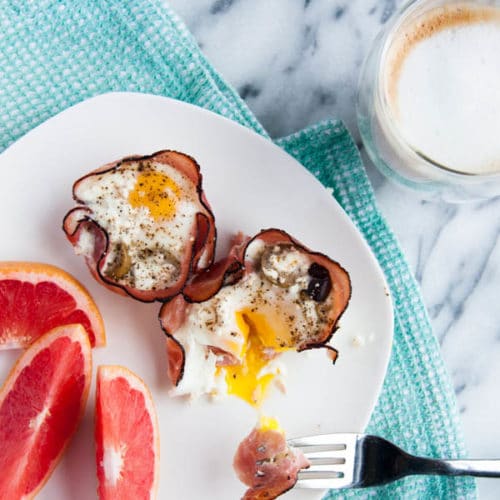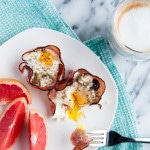 Baked Ham and Egg Cups
Baked Ham and Egg cups are so customizable and equally as excellent for quick weekday breakfasts or serving at your brunch party!
Keyword:
baked eggs, egg cups, ham
Ingredients
4

thin slices of deli ham

(I used black forest ham)

4

eggs

black and green olives, sliced

goat cheese

freshly cracked salt and pepper
Instructions
Preheat oven to 350 degrees F.

Grease 4 cups of a muffin tray with butter. Line each cup with a slice of deli ham (the ham will need to be a bit ruffled.)

Crack the first egg into a small bowl or measuring cup, and carefully ease the egg into one of the muffin cups. Repeat for all 4 eggs.

Sprinkle the tops of each ham and egg cup with olives, goat cheese, and freshly cracked salt and pepper.

Bake for 18-21 minutes, until desired doneness and whites are completely set. (18 minutes will yield a runny egg, 21 minutes yields a hard egg.) Carefully remove eggs from muffin tray.
Recipe Notes
Recipe serves 2, if each person eats 2 eggs.