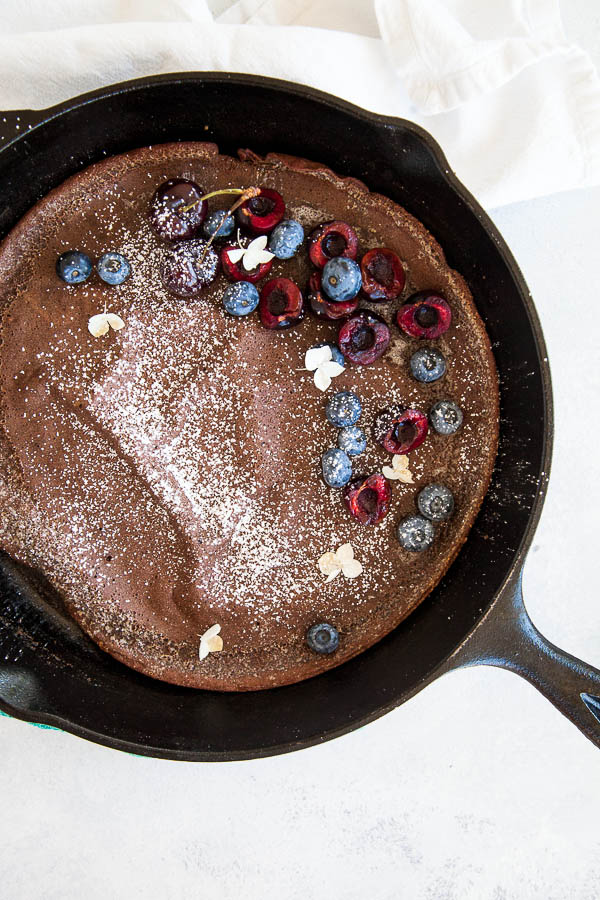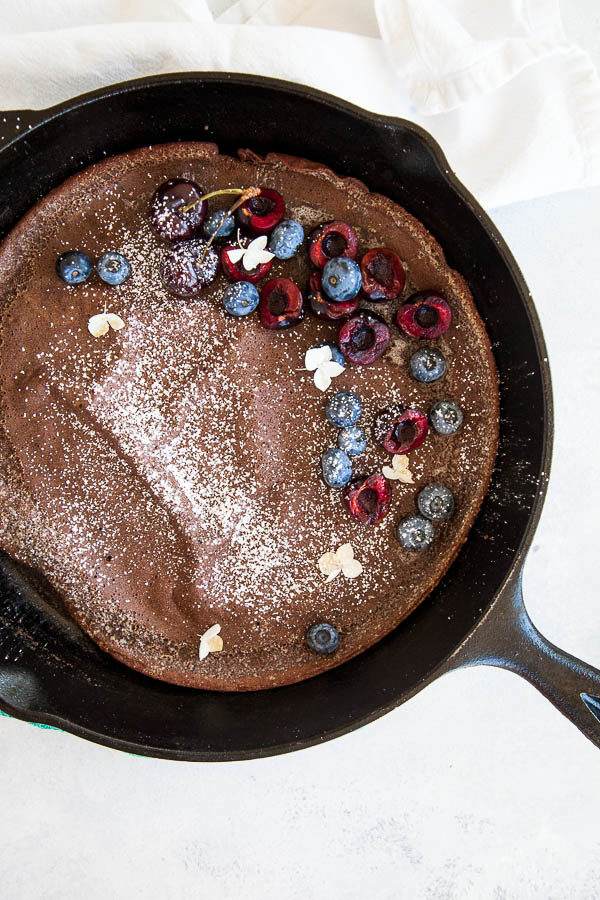 Dutch. baby. Might go down as the weirdest name for a pancake EVER.
Despite its odd name, the dutch baby is a pretty little puffed pancake that bakes entirely in the oven. It should really be called the lazy pancake because there is no flipping required – the batter is poured into a cast iron pan, cooked in the oven until it's impressively puffed, and then cut up like a pizza to serve.
(Are you converted yet?!)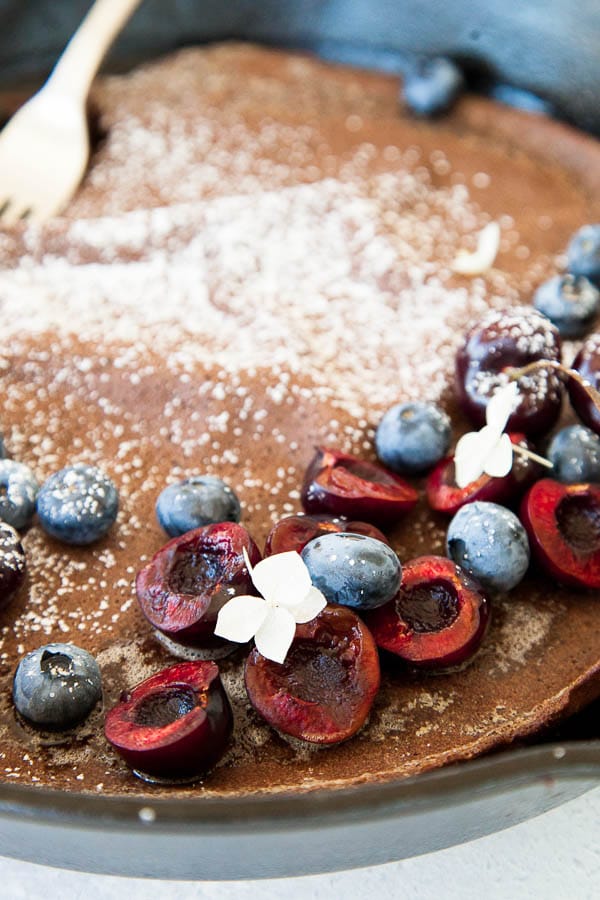 Dutch baby pancakes have been around since the 1940s or so – and they're not even Dutch, I was surprised to learn! They are derived from a German pfannkuchen but were introduced in Seattle – a hop, skip, and jump away from where I am in Vancouver.
I've mixed some rich cocoa into the batter to create this Chocolate dutch baby pancake – which is the perfect little breakfast treat when eaten with fresh berries, a sprinkle of powdered sugar, and a drizzle of maple syrup.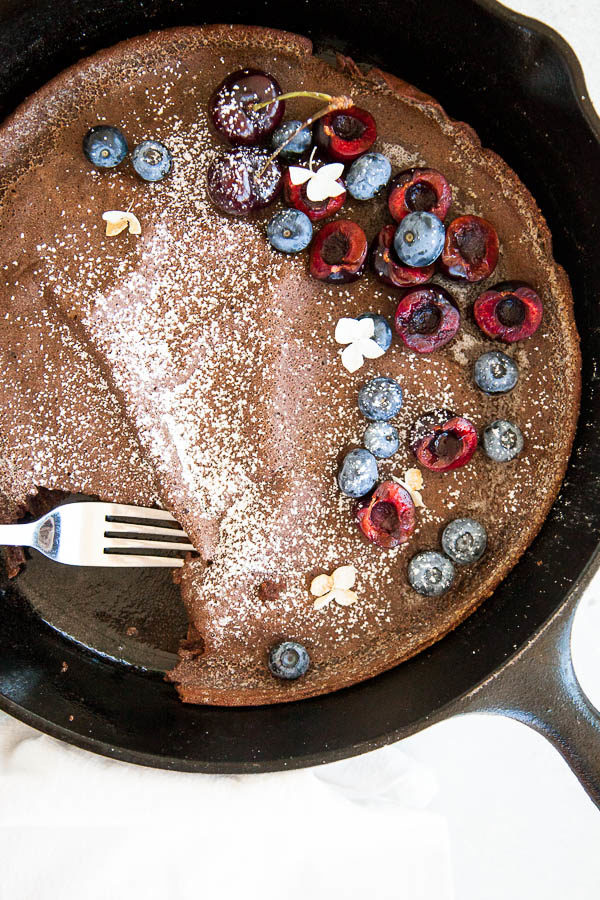 Be warned – once your Chocolate Dutch baby pancake is fully cooked and very impressive-looking in the oven, it will immediately fall as it cools. So make sure your guests/children/spouse are around when you take it out of the oven so they can oooh and ahhh. 😉 After that, it will deflate into a flatter, ruffled pancake.
The taste is spongy yet delicate – a cross between a traditional pancake and a crepe.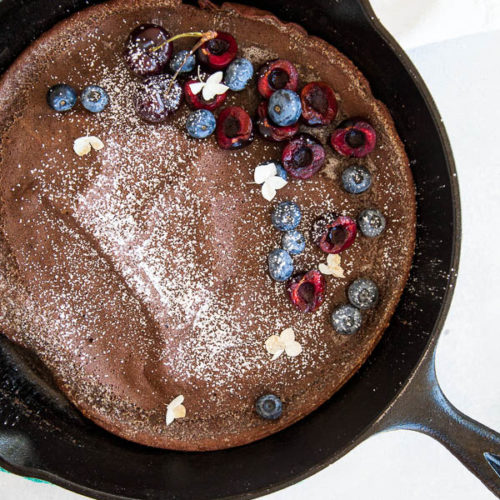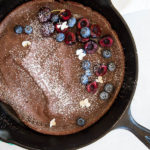 Chocolate Dutch Baby Pancake
Rich cocoa is mixed into the batter to create this oven skillet pancake - best served with fresh summer berries and drizzles of maple syrup.
Course:
Breakfast, Brunch
Keyword:
chocolate, dutch baby, dutch pancake, griddle, oven pancake, pancake
Ingredients
2

eggs

1/4

cup

brown sugar

1/2

cup

milk

1

teaspoon

vanilla

1/2

cup

flour

2

tablespoons

cocoa powder

30

g

unsalted butter

fresh berries, to serve
Instructions
Preheat oven to 375 F.

Place a 11" cast iron skillet (or other oven-safe skillet) into the oven to heat for 10 minutes, then remove.

In a large bowl, beat together the eggs, brown sugar, milk, and vanilla. Then add the flour and cocoa powder and beat again until smooth.

Melt the butter in the hot skillet, and swirl to coat the skillet evenly. Pour the batter into the skillet and then bake for 15-20 minutes, or until the pancake is puffed in the middle and firm around the edges.

Serve with fresh fruit and maple syrup.
Recipe slightly adapted from Donna Hay's Fresh and Light – I reduced the sugar quite a bit.