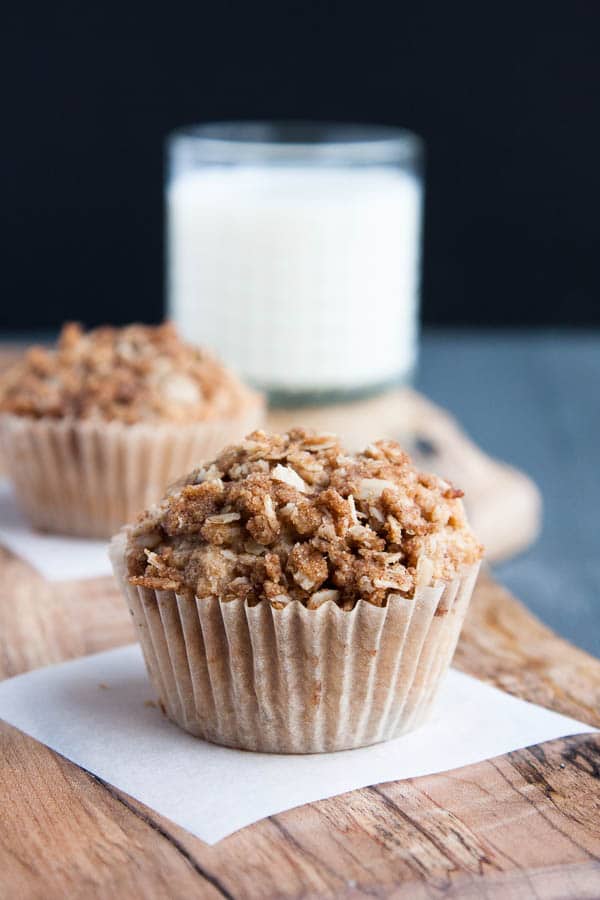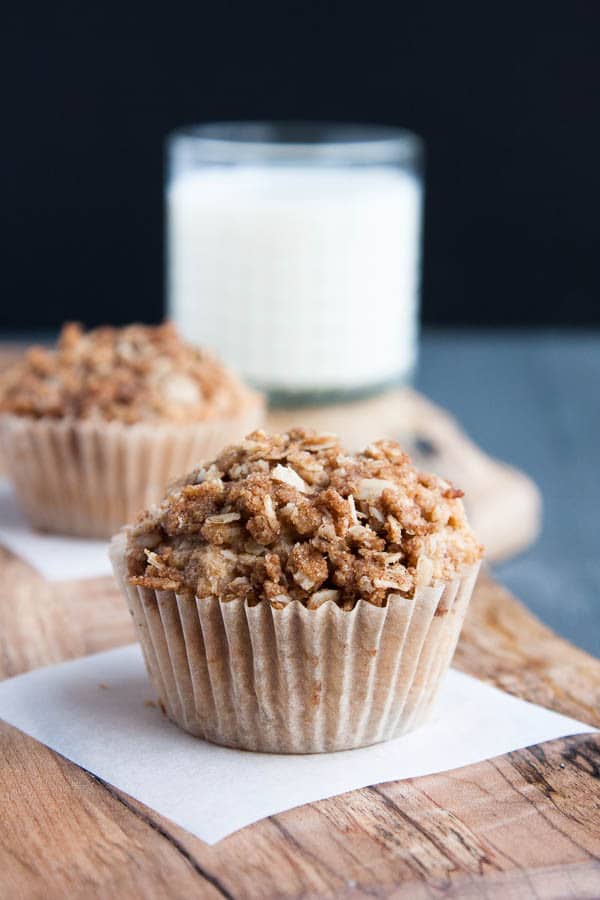 Sunday was our 1 year anniversary of being engaged! The countdown to the wedding begins! We love to celebrate the little things around here – it's always a good excuse to open up a nice bottle of wine! 😉
To celebrate, we went for a walk on the beach where J proposed, and then came home and made a delicious dinner together – cooking in the kitchen with him is one of our favourite things to do together. We made beef tenderloin (!), garlic mashed potatoes, and roasted brussels sprouts. For dessert I whipped up one of my famous apple crisps using the recipe that's been passed down through my family.
As I was sprinkling the crumble topping on top of the sliced apples I wondered if I could turn it into a muffin topping.
Streusel-topped muffins? Yes please!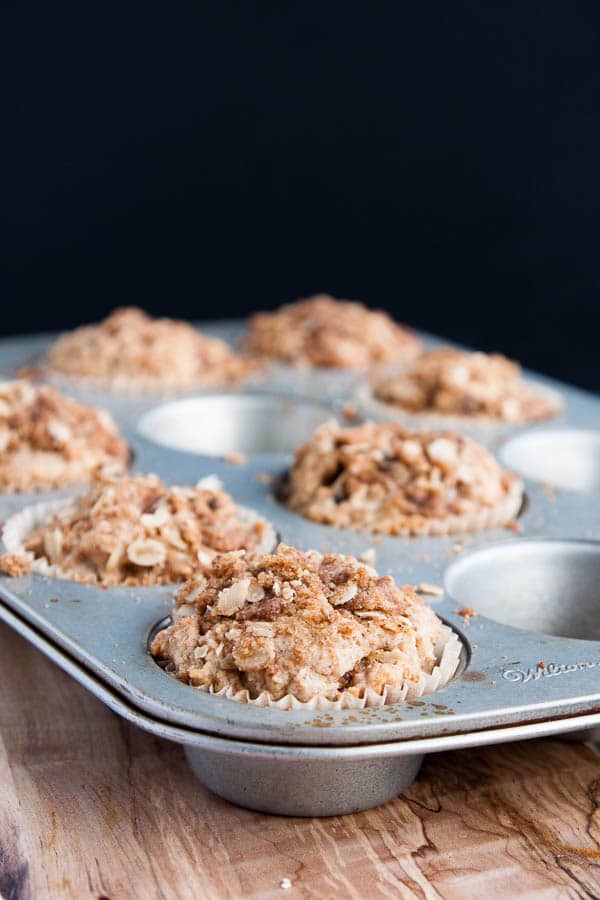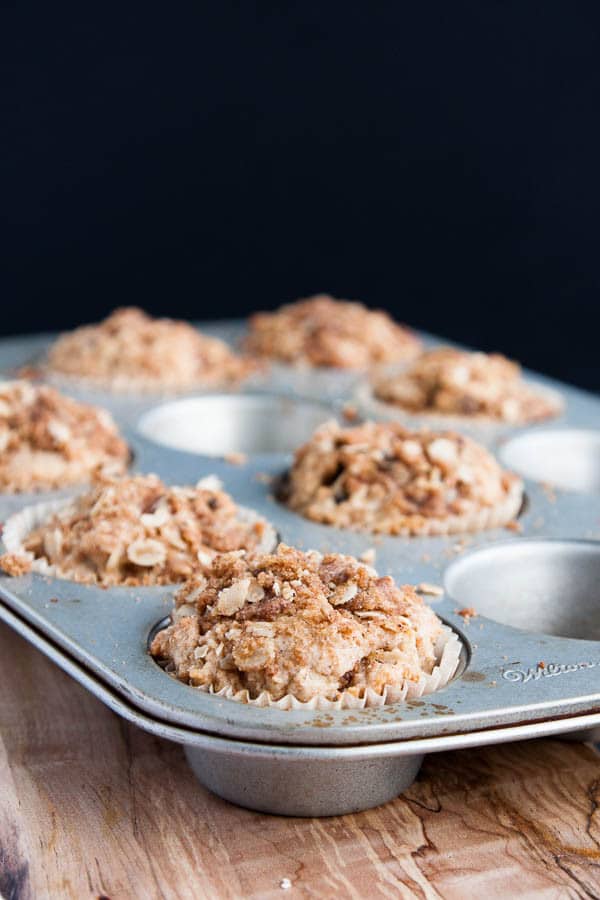 And so Cinnamon Streusel Muffins were born.
The streusel topping is the exact same recipe as the apple crisp topping – I don't proclaim these to be healthy muffins, although I did inject a few whole grains by using half white and half whole wheat flour.
These muffins are more like a muffin you'd find in a bakery – a muffin to munch along with your tea; or a muffin to sweetly wake yourself up in the morning.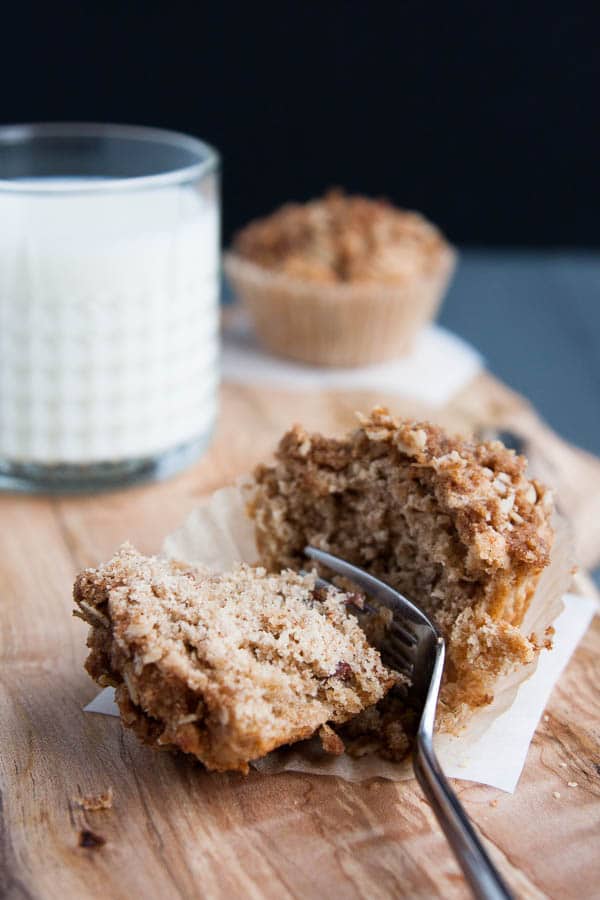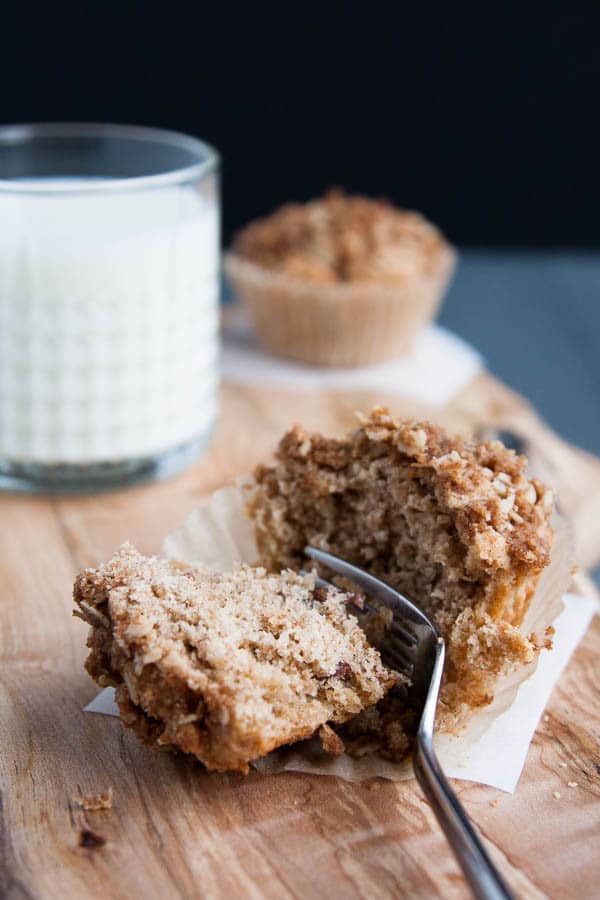 I've sprinkled these muffins with chewy raisins, but if you don't like raisins, try using dried cranberries or chopped apple!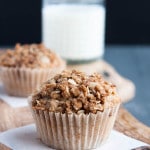 Cinnamon Streusel Muffins
Bakery-style muffins with a crunchy cinnamon streusel topping, to munch along with a cup of tea.
Ingredients
For the muffins:
1/2

cup

butter, softened

1/2

cup

brown sugar

2

eggs

1

teaspoon

vanilla extract

1/2

cup

+ 2 tablespoons milk, warmed

1

cup

all-purpose flour

1

cup

whole wheat flour

2

teaspoons

baking powder

1

teaspoon

ground cinnamon

1/2

teaspoon

ground nutmeg

1/2

teaspoon

ground ginger

1

cup

raisins
For the streusel topping:
1/2

cup

rolled oats

1/2

cup

brown sugar

1/4

cup

all-purpose flour

1

teaspoon

ground cinnamon

1/4

cup

cold butter
Instructions
Preheat oven to 375F degrees. Grease 12 muffin cups or line with paper liners.

In a large bowl, cream together the butter and sugar until fluffy. Beat in the eggs one at a time, then gently beat in the vanilla and warmed milk. Stir in the flours, baking powder, and spices. Gently fold in the raisins.

To make the streusel topping, in a small bowl, combine oats, brown sugar, flour, and cinnamon. Cut in the cold butter, using a pastry cutter or two knives, until crumbly.

Drop batter into muffin tins, filling 3/4 full. Sprinkle each with streusel topping.

Bake for 20-30 minutes, until a toothpick inserted into the center of a muffin comes out clean.
Recipe Notes
Raisins may be omitted, or replaced with an equal amount of dried cranberries or chopped fresh apple.