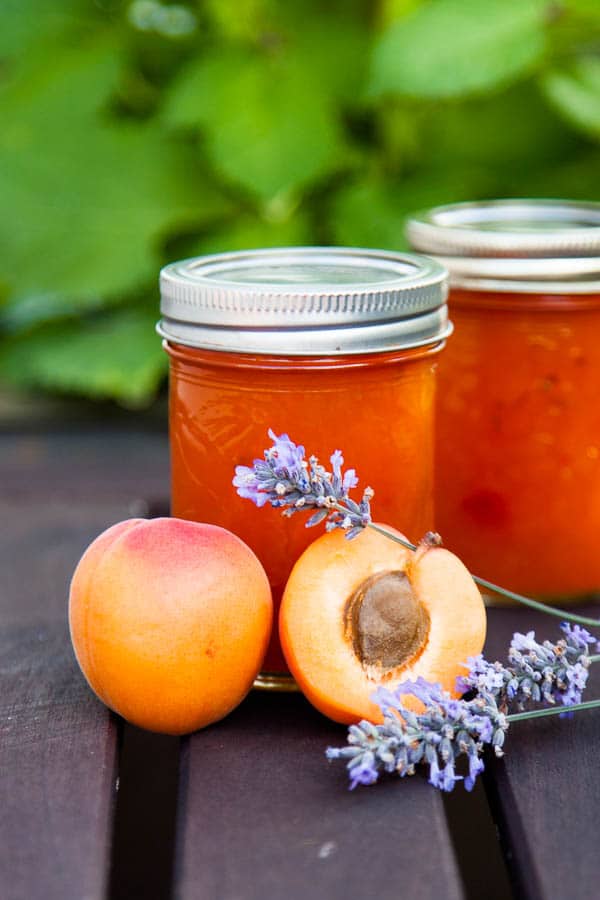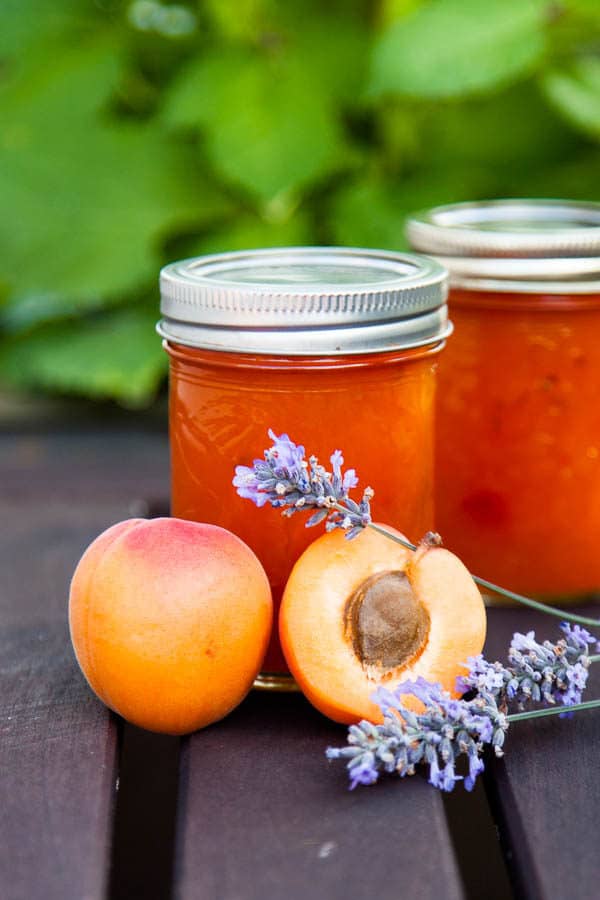 For many years, J and I have subscribed to a CSA box from a local farm. Each week throughout the summer we've received delicious fresh veggies – always a surprise, and always so fun to find recipes to use them.
This summer, we decided not to subscribe to our beloved CSA box, since we will be on honeymoon for a good chunk of the summer. We decided to put more effort into our rooftop veggie garden, and created a serious planting schedule that would keep us in constant supply of lettuce and salad greens, carrots, beets, snap peas, etc. It's been working great! Although I do miss the vegetable surprises that keep my meal planning on its toes!
The one thing that I always wished our CSA box had was fruit. So this summer, when I found a fruit ordering service that delivered stone fruits from the Okanagan region, I was thrilled! (Thanks sis-in-law!) I signed up in a heartbeat.
Which leads me to the reason as to why I found myself buried in 10 lbs of apricots. Happily buried, I might add. 😉
We've been eating apricots with our oatmeal, apricot crisp, apricot galettes, apricot muffins – and then, to finish off the box of apricots (and to make way for my next delivery of 10 lbs of nectarines!), I decided to make jam. But not any old apricot jam – Apricot Lavender Jam.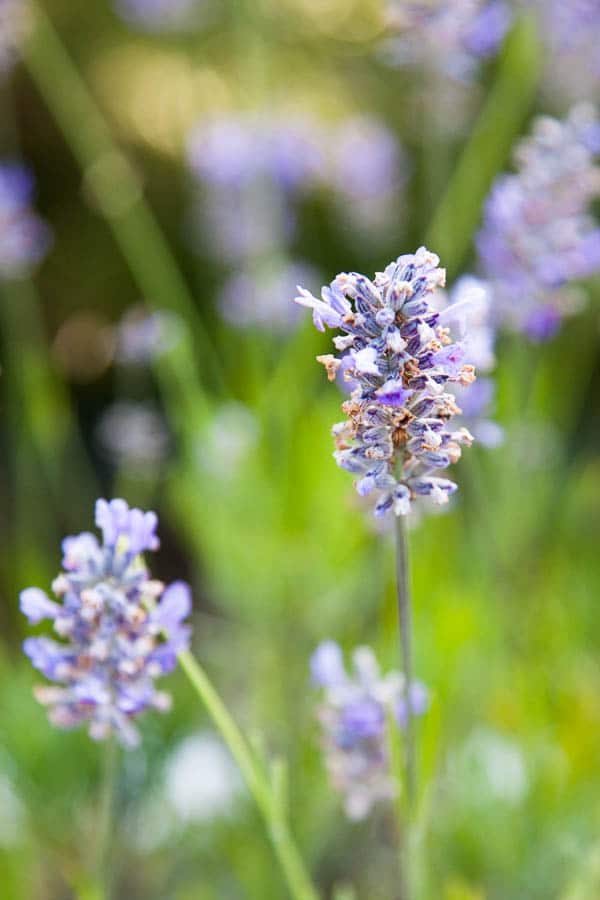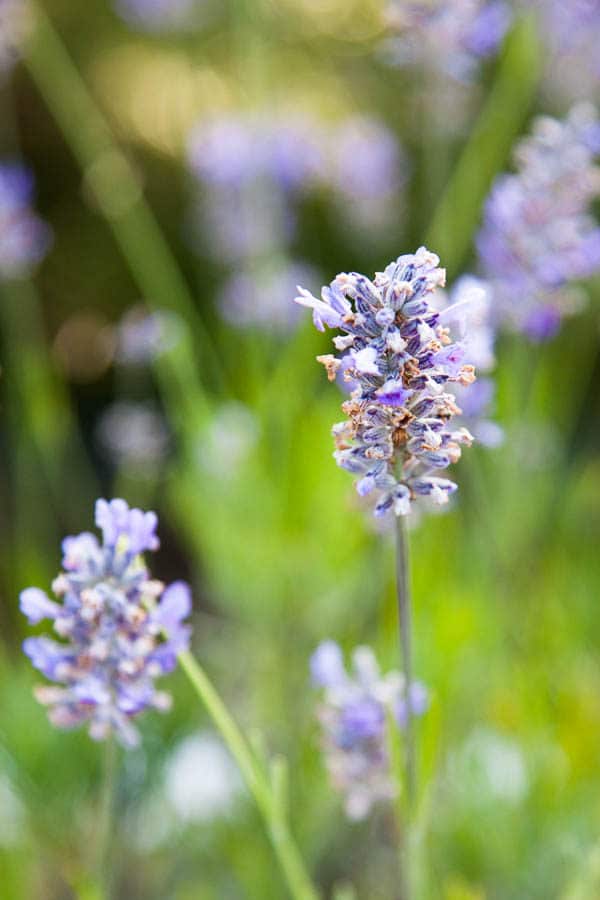 Lavender is my all-time favourite scent. We grow lavender in pots on our deck, I have lavender soap, lavender deodorant, lavender dish soap, lavender essential oil in my diffuser… I love lavender!
Cooking with lavender is a delicate procedure – too much and it's overpoweringly floral-tasting. Just right and it's the most delicate and fragrant taste, adding a rich complexity.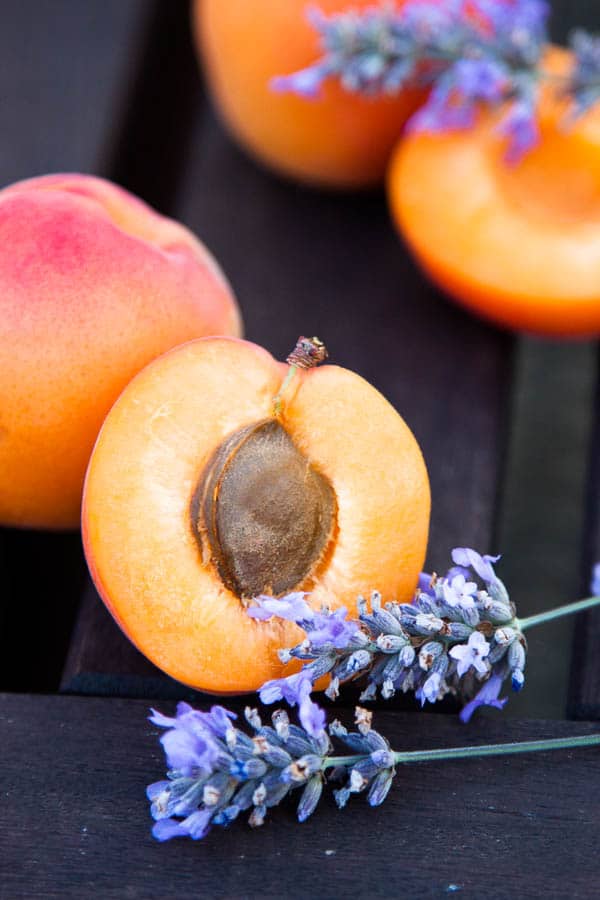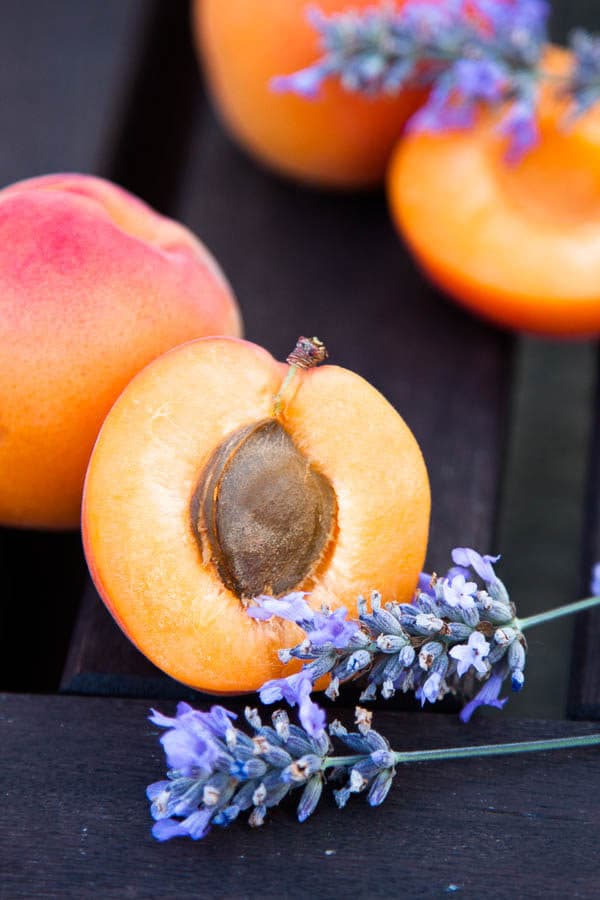 The lavender in this Apricot Lavender Jam adds a subtle floral note – an unexpected and delightful addition.
Find culinary lavender at higher-end grocery stores, or use the lavender in your backyard – just make sure the lavender is not sprayed with pesticides. I've been told that all lavender is edible, as long as you can verify it's pesticide-free – and make sure to dry it first.
Spread Apricot Lavender Jam on your favourite scone, or pair it with sharp cheddar cheese and crackers. Yum!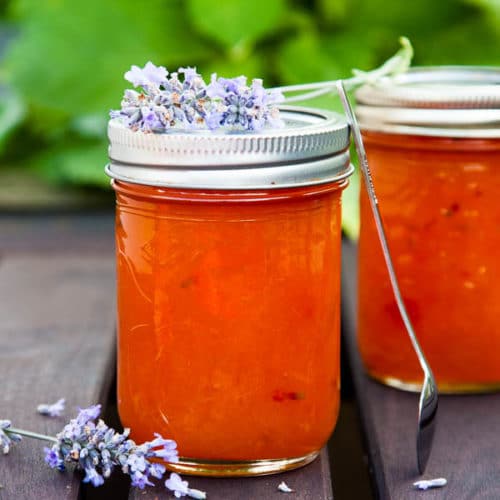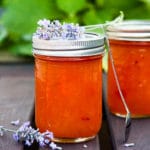 Apricot Lavender Jam
The lavender in this Apricot Lavender Jam adds a faint floral note - an unexpected and delightful addition.
Keyword:
apricot, canning, jam, lavender, mason jar, preserves, spread
Ingredients
3

cups

apricots

halved, pitted, and chopped

2

sprigs dried lavender flowers

approx 1/2 teaspoon - try 3/4 teaspoon for bolder flavour

1/4

cup

water

2

tablespoons

fresh lemon juice

1 1/4

cups

granulated sugar
Instructions
In a medium-size pot, bring the apricots, lavender, water, and lemon juice to a simmer over medium heat, stirring occasionally. Reduce heat to low and simmer, stirring occasionally, until the fruit starts to soften, approx 5 minutes.

Stir in the sugar and continue simmering until jam has thickened and fruit has broken down, approx 15-20 minutes. Skim off any foam that's formed on the surface and discard.

Divide the jam between 2 sterilized half-pint mason jars. Wipe down rims with a clean cloth, then screw on lids until they're finger-tight.

Process the jars in a hot water bath. I usually do this by filling my largest pot with enough water to cover the tops of the jars and bringing water to a rapid boil. Place the jars into the boiling water (using tongs or a jar lifter) and let them sit for 10-15 minutes - the lids will "pop" inwards, which signifies the lids have vacuum-sealed. The lids may not pop until after you remove the jars from the water bath and are cooling.

Remove jars from the water bath and let cool. Any lids that don't dip down in the middle, or that spring back have not sealed. Place them in the refrigerator and enjoy those jars first.

All other jars may be stored in a dark, dry place for up to one year.
Recipe Notes
Recipe yields approx 2 half-pint jars.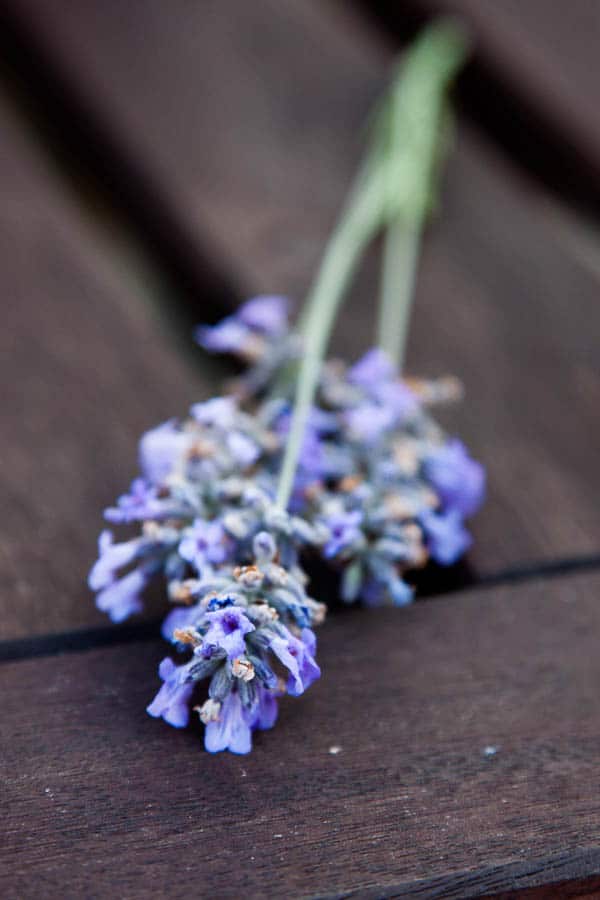 Also try Strawberry Rhubarb Jam!