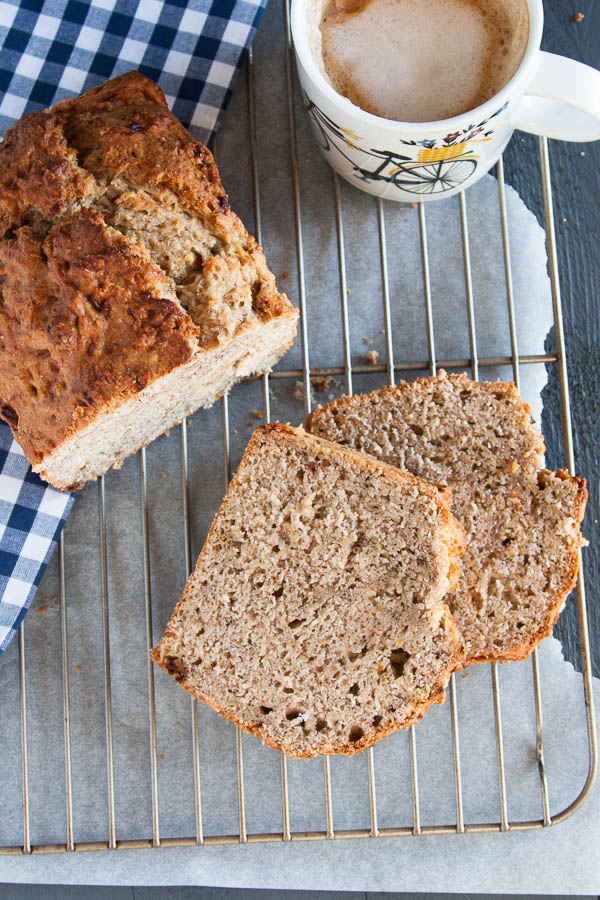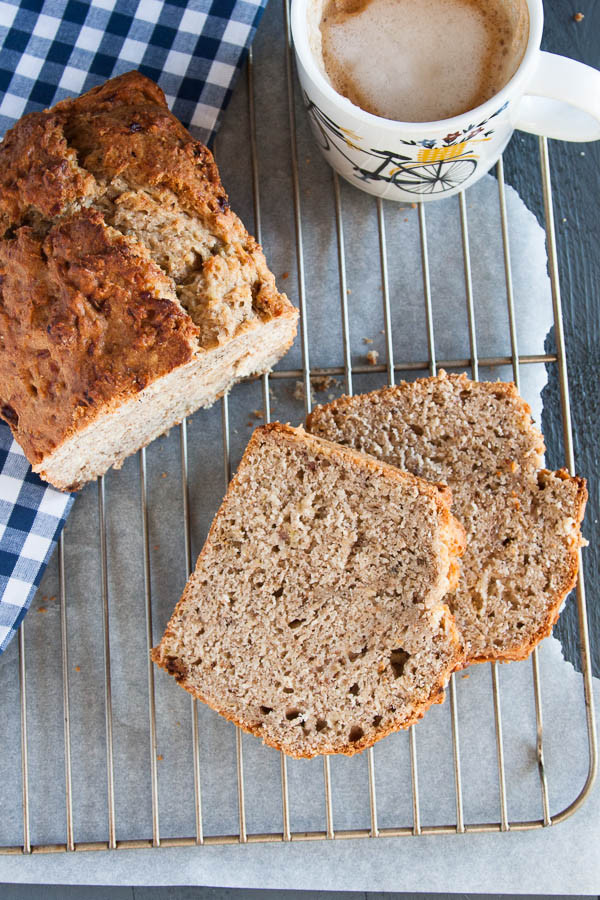 Banana bread. Have you ever met someone who doesn't like banana bread? Seriously. It is the best. Sometimes I let bananas "accidentally" get too brown in our fruit bowl and then I "have" to bake them into banana bread. We are banana bread obsessed in this house.
I love experimenting with different flavours of banana bread, like my latest Bourbon Banana Bread. This time, wanting to eat healthier for the new year, I upped the healthy-factor and baked a 100% whole wheat banana bread.
Because I'm prone to eating an entire banana bread in 2 days, after the banana bread cools, I like to cut and wrap each individual slice to put in the freezer. That way I can throw a slice in my purse before work and it's thawed by the time I sit down at my desk. Or 'nuke a frozen slice for 20 seconds. Or throw it in the toaster and slather it with fresh butter.
However, if you did end up eating this entire banana bread in 2 days, at least you won't feel bad about it – because this whole wheat banana bread is HEALTHY(ish).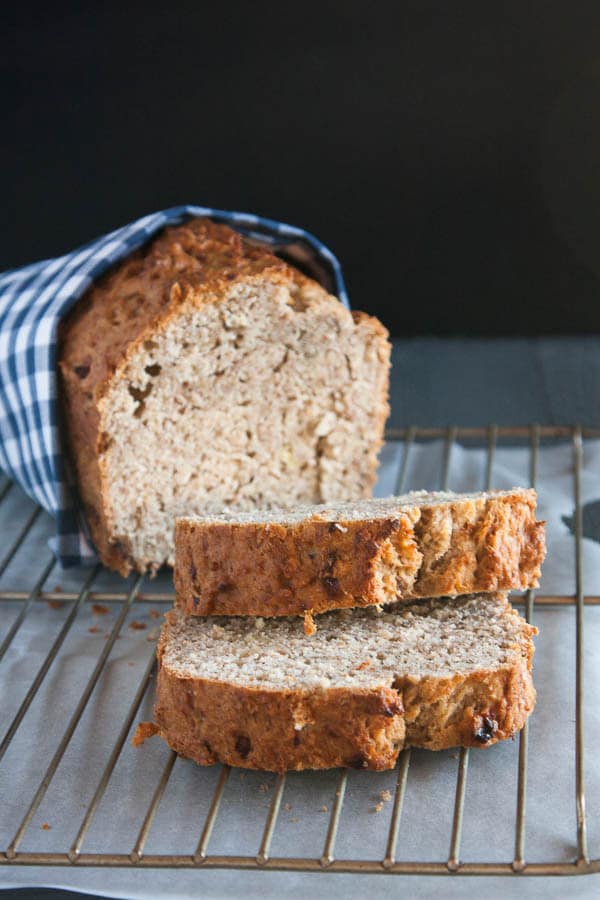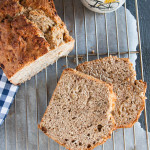 Whole Wheat Banana Bread
A 100% whole wheat healthy(ish) banana bread recipe - now you have an excuse to let your bananas "accidentally" get too brown!
Keyword:
banana bread, healthier, loaf, whole wheat
Ingredients
1/2

cup

butter

melted

1/4

cup

dark brown sugar

1/4

cup

granulated sugar

2

eggs

1

teaspoon

vanilla extract

3

ripe bananas

mashed

4

tablespoons

1% milk

1/4

cup

sour cream

1 3/4

cups

whole wheat flour

1

teaspoon

baking powder

1

teaspoon

baking soda

1

teaspoon

cinnamon
Instructions
Preheat oven to 350 degrees and grease a loaf pan.

In a large bowl, whisk together the butter and sugars together. Add in the eggs and whisk until combined. Stir in vanilla, mashed bananas, milk, and sour cream.

In a separate bowl, sift together the whole wheat flour, baking powder, baking soda, and cinnamon. Add the dry ingredients to the wet and stir until just combined.

Pour batter into a greased loaf pan and bake for 1 hour to 1 hour 10 minutes at 350 degrees until toothpick inserted in the center comes out clean.

Let bread cool in the pan for approx 10 minutes, then turn out onto a rack and cool completely.
Recipe adapted from the lovely kitchen (my old food blog).